Press Releases
News
Archive – It is gratifying to learn that Sunaayy's work has made an influence and touched people further away from home. We have been fortunate to have been approached by 'School of Rural and Urban Education, Vaishali in Bihar, to initiate an after school English enhancement program for their students and also include children of the backward communities in our mission "Read to Succeed". Nishaant, whose school in the village completed a year recently, said- "I got a chance to be a part of Sunaayy's annual day celebrations in 2013 and few classes thereafter. What inspired me the most that Sunaayy survived on minimal resources and support yet delivered high results on the willingness of the children to learn happily." This new endeavor is at an experimental phase. We are hoping that our effort yields results no matter how it is. Once again we ask for your prayers, best wishes and love to make this a success. Sunaayy also would like to thank you all for staying with us in our journey.
Archive – As we almost complete a month , with our new center up and operational.Just want to mention here that Sunaayy boasts of a model which is purely make-shift in nature with no infrastructural set-up and hence no cost involved. We started facing teething issues right on Day One. Starting from shortage of staff to shortage of supplies, one of the greatest challenges was to find a place where we could keep our inventory overnight only to be used the following day. While this is a major cut down on the cost involved towards running any organisational set-up including a Non-Profit, the flip side of the story is the challenge that we faced as mentioned above. In our current set-up, I do let out my own premises as a warehouse for the inventory. In the new set-up, we don't have any such provision. All these six years, no matter how much the planning, I had to rely on our stars for a lot of our stuff. And for our inventory, I may have subconsciously relied on such heavenly intervention. It's a mere coincidence that there is a temple adjacent to our new centre and as luck would have it, we had the priest letting us the place to keep our inventory overnight. No, divine intervention, no religion, no nothing. That is not the motive behind this share. It's just to say in Paulo Coelho words, "Most people see the world as a threatening place, and, because they do, the world turns out, indeed, to be a threatening place. But when someone really desires something, all the universe conspires is to help that person realize his dream."
Archive – Friends of Sunaayy share their experiences on the 6th annual day…
Archive –On March 28th, 2015, our friend and volunteer, Misty, organised a fundraiser for Sunaayy Foundation in Hong Kong…
Archive – Rahul is one of our brightest and diligent student but currently lost in the basic survival grind. What do we do with such children?
Archive – Another success story: One of Sunaayy students, Samiksha, starts mainstream school
Archive – On the occasion of the 5th Annual day of Sunaayy, MaxIndia Foundation held their first (MMR booster) immunization camp for all the children…
Archive – Tazeen Quddus shares her personal moments and experiences with Sunaayy…
Archive –  Reminiscence of Farida, one of Sunaayy's oldest staff member and believer…
Archive –   5th year in a row, young Malvika has been successful in raising awareness and spreading Sunaayy's wings in the USA.
Archive – Sunaayy is SEE's featured project of this month (February 2014) and it feels great to see us right on their home page – http://www.saveourplanet.org/
Archive –
The volunteers from "A Fresh Chapter" (www.afreshchapter.com), who have dedicated themselves to transforming lives, have now connected Sunaayy Foundation to the rest of the world with this beautiful heart warming gesture…
Videos/Podcasts
Sunaay Foundation – Nuture, Cherish, Evolve
Hunger a bigger threat than COVID19 during Lockdown in India
Sunaayy | School on Road to Hope
Sunaayy: Roadside School of Hope | New Delhi
पिछले दस सालों में वह लगभग 500 बच्चों को फॉर्मल स्कूल में दाख़िला दिलाने में कामयाब रहीं हैं।
The Sunaayy Foundation has come forward to help their children and poor wage labours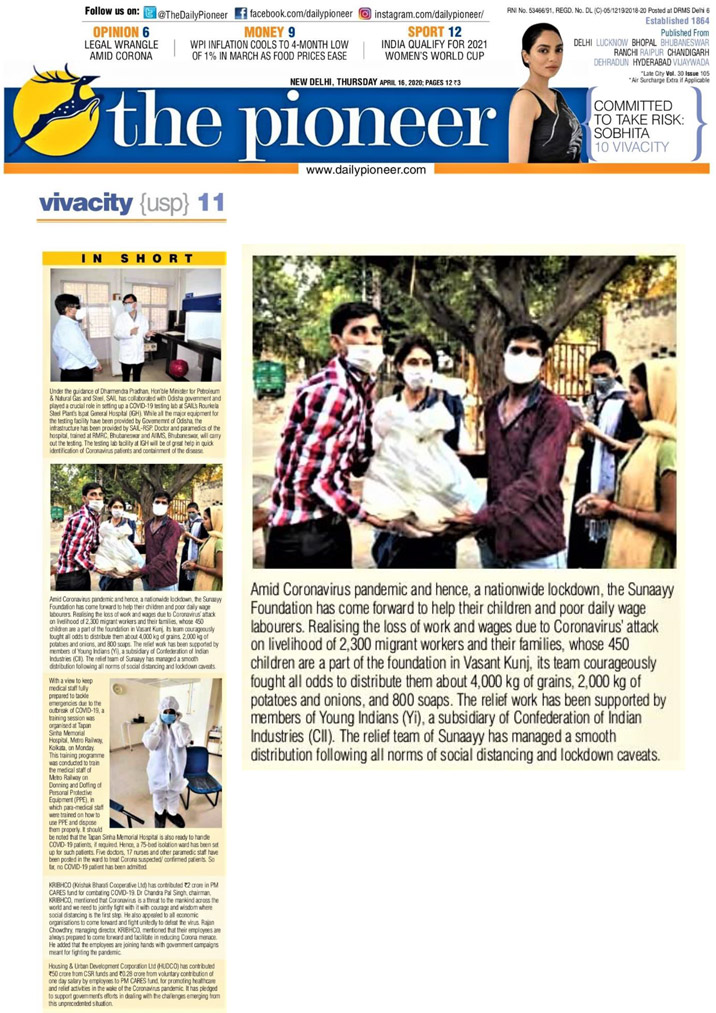 Mankind faces challenge of the century